Will Bouma was re-elected as Member of Provincial Parliament (MPP) for Brantford-Brant after Election Night on Thursday, June 2.
Bouma, the Progressive Conservative candidate, easily secured his seat, defeating his next closest candidate, Harvey Bischof of the NDP, by over 7,000 votes. Bouma received 20,738, equating to 44 per cent of the vote, while Bischof received 13,283 votes. Liberal candidate Ruby Toor received 6,083 and Green Party candidate Karleigh Csordas rounded out the top four with 3,174 votes.
Over 100 constituents, friends, family and supporters gathered at Royal Canadian Legion, Branch #605 in St. George to watch the election results and Bouma's victory.
Bouma described what he was feeling after being declared the winner.
"I feel tired, but very pleased with the result. I think with everything that's going on, it's really good to see the people in Brantford and Brant make a decision for the future, that we need to keep moving forward on so many of our priorities. That's really exciting. And I heard it so often at the doors, you're doing a great job, you did a great job. A lot of people who had said that they had never voted Conservative before and had doubts about the Premier four years ago. We're really, really pleased. It was an extremely difficult situation throughout the pandemic, but to bring us through that, I think, just to have a vision that, we're on the right path, let's just keep it going," said Bouma, shortly after winning the election.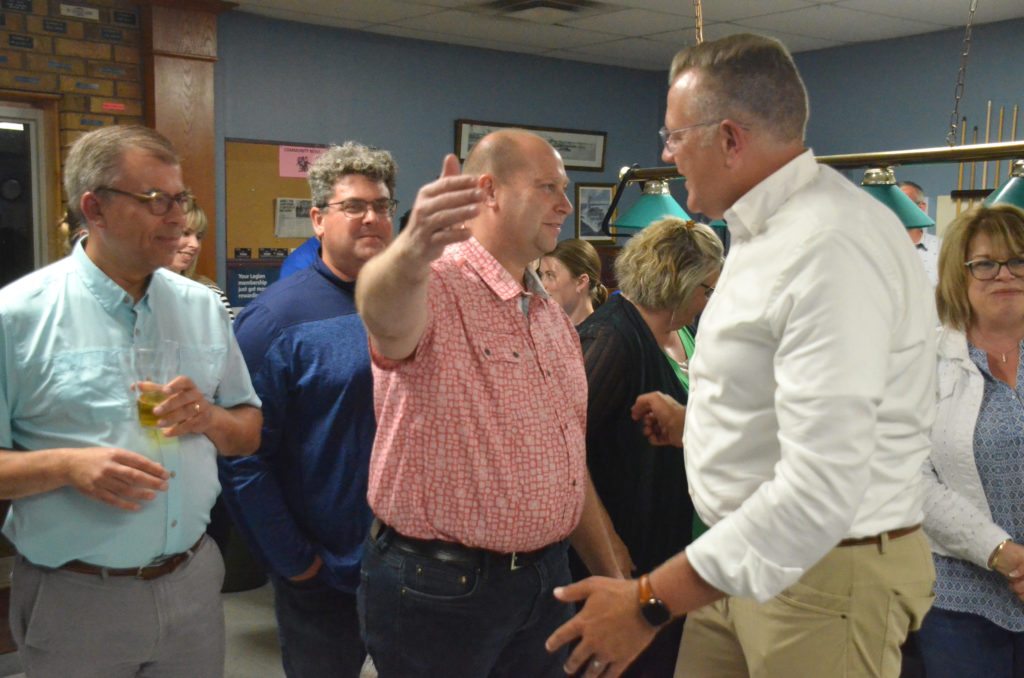 Bouma went on to further address the COVID-19 pandemic and the impact it had on the election.
"I think probably the single biggest thing that I noticed, and the one thing that I learned four years ago, and is even more important, to me now is to actually be at the doors. We didn't have massive groups going out every day. But we knocked on almost 16,000 doors in the last four weeks, which means we spoke to about seven, seven and a half thousand people because we got almost 50 per cent of people at the doors chatting with them," said Bouma. "I think the ability to canvass face to face I think that's probably the second biggest impact of COVID. I'm really happy. And maybe that was part of the reason that people were just happy to see someone at the door. And, and even if it wasn't to get someone's vote, it was very, very, very gratifying to be at the doors."
Bouma also said he saw the impact of COVID-19 while working at Queen's Park.
"I noticed that the the ability to talk to colleagues from the opposite parties happens over at a lunch reception or a reception after the close of the house at six o'clock. And people get together. And the ability to talk to someone who you disagree with philosophically or politically, to find that common ground was taken away. That face to face is more important to people now more than ever. In a world of social media, where so many people have so much access to so much stuff, but so little actual face time with people," added Bouma.
With his win, Bouma will be entering his second consecutive term, and he compared this campaign to the one he ran in 2018.
"The single biggest difference was just being at the doors. And you know, I mentioned that in my speech too; it was just the kindness at the door, but there were some people that were really, really angry and they let you know it, and I feel bad for them. But those were maybe one in 100 or one in 200 doors for the most part, and it didn't matter which way they're voting. And even then, there was very few door slams. There was very few obscenities and the anger level just wasn't there. And, rightly or wrongly, four years ago was a change election. And a lot of people were really excited. And this time, just the kindness in general and people that really, it was inspiring, actually, just to go out and knock on doors, and just talk to people and see where they're at," Bouma said.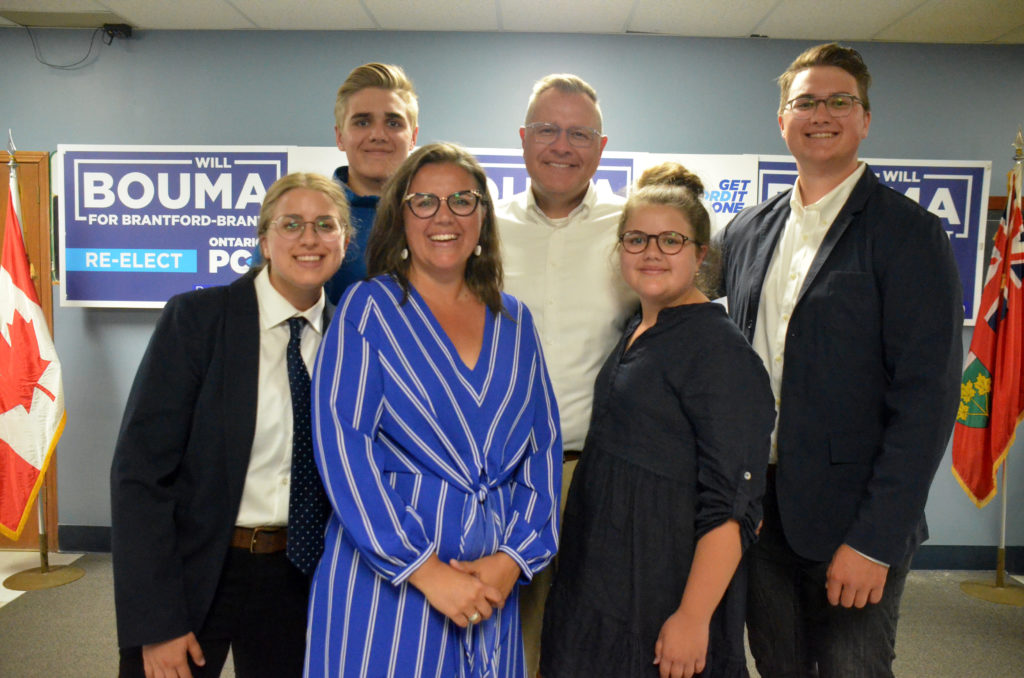 While running in this year's election, Bouma had a more difficult time after a published report said he oversaw a religious publication that made homophobic statements.
"The worst part was just the disappointment, and that we don't do that here. And I would say, based on the response at the doors, it was not a successful strategy. The impact on the family was very difficult but it motivated the campaign, and I would say it motivated people at the doors, which was also very affirming in the days after that happened. To see people just coming into the campaign office and making donations saying I can't believe what they're doing, and people just at the door saying, that's so not fair," explained Bouma. "To see the reaction of the people in the writing, reaffirmed that we don't do things like that and I really appreciated that. It was probably good for the campaign but a disappointment that it would go there. And again, it had nothing to do with what this election is all about, which is building Ontario, keeping us open, getting workers good jobs, and and a complete distraction from what the real issues are on the campaign."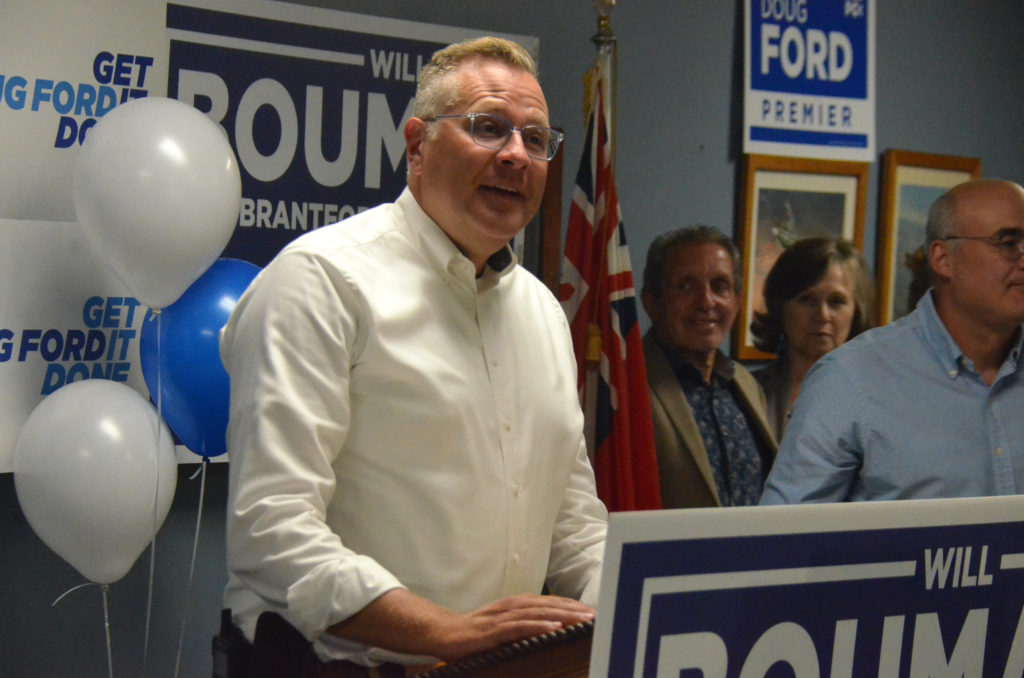 With the election now behind him, Bouma is focused on getting back to work and already has his first priority, transportation and roads.
"We're getting right back into it. We need a lot of things on transportation, we need to be able to move people efficiently. And the highways are really only getting more full. We need to move people from West Brant efficiently to the 403. And quite frankly, we need to move people safely and efficiently up there to the 401 and points beyond. I've been working on this since I was on (County of Brant) council actually, because when we passed our master transportation plan in 2015 I asked the CAO when do we put our master transportation plan together with everyone else's master transportation plan to make sure all the world's lined up in the right spot and the CAO said there was no mechanism to do that," Bouma explained. "The Ministry of Transportation (MTO) has said, if the municipalities could work together and propose a route for that, where people are happy having a road where you can make it, it would take 10 years off of that potential process of getting that road built. So instead of the province dictating what will happen here on the ground, if we can do that locally, everything goes really smooth."
Besides wanting to improve access to roads and highways, Bouma is also focused on getting a new courthouse in the region.
"I mentioned that it's a long story, but the courthouse is a mess right now. It's a rented facility that's been for sale on and off, and abusive spouses have to sit across from the abused in family court, we don't have a Gladue court, we don't have a unified family court. And it's one of those under the radar problems, I think, by the grace of God, that we haven't had anything tragic in our court system here. So, it's something I've been working quietly on for the last few years on," said Bouma. "A lot of work has been done, a lot of work needs to be done but I think we're on a path now that can be successful."