Belonging Brant is creating space for community members to connect with like-minded individuals and make a difference through their passions and interests.
Belonging Brant team members Tara Buchanan and Jocelyn Birkes said that the group was formed in October 2020 after Community Living Brant applied for an Ontario Trillium Grant with a goal of inspiring citizen-led action.
"We wanted to amplify asset-based community development, or ABCD, which is all about focusing on what's strong in the community, instead of what's wrong," Buchanan said. "We really wanted to see community connection and see people belong, fit in, and really build stronger, healthier communities."
Through the program, team members attend community events to engage with citizens about what they love in their community, what they feel like could improve their community and what they would need to make those changes.
"We wanted to build that sense of folks doing it themselves," Buchanan said. "If you want something different, you can get out there and make it happen. We want to see that for everyone in our community, especially marginalized folks and folks that maybe hadn't been given the opportunity to have that kind of leadership capacity. It's important to create ties amongst the community, the need for stronger, resilient communities was really amplified by COVID-19."
After only two years, Belonging Brant already supports 19 groups and initiatives, almost entirely created and led by community members. The organization acts as a platform for the groups, while also supporting by providing financial assistance and finding spaces for people to gather.
For example, after hearing a number of community members express their concerns about the need for affordable housing in the area, the group has been working with community partners to find community solutions.
"It really is about following what the community members want," Buchanan said. "We really have to take a step back and make sure that we're not the ones coming up with the ideas."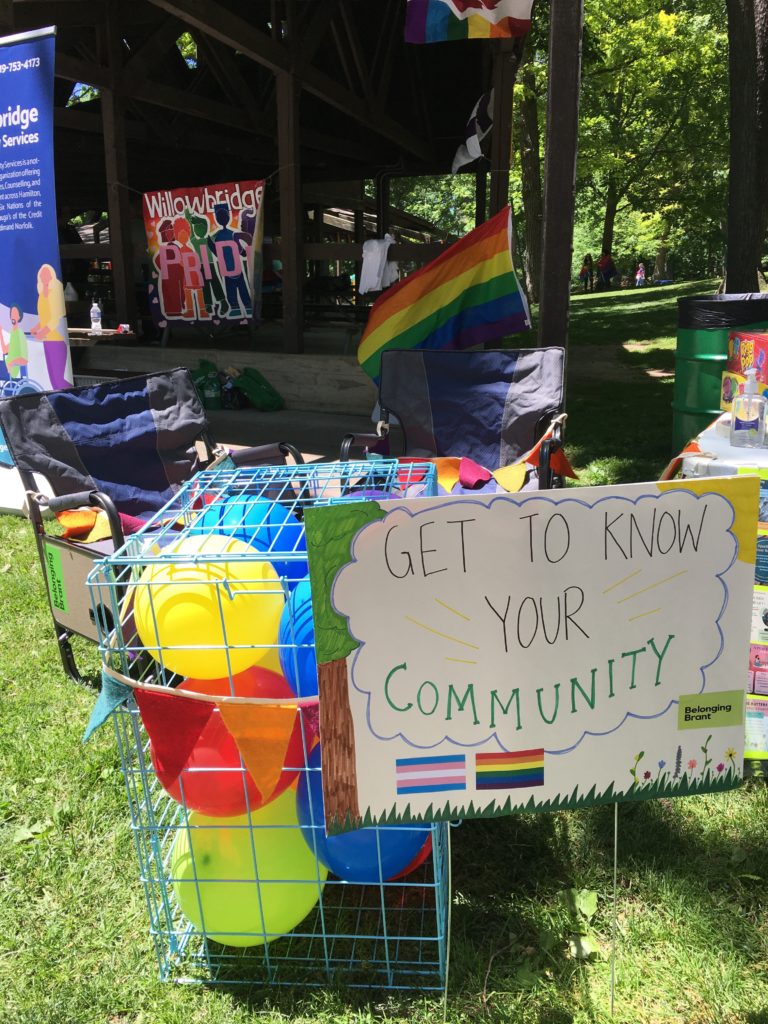 In addition to assisting the community with large-scale movements and initiatives throughout the Brant-Brantford region, Belonging Brant also supports citizen-led groups like a photography group, art space, and a random acts of kindness group.
Two of the Belonging Brant's most notable projects include the Elder's Legacy Project and the Building Bridges Youth group.
"The Elder's Legacy Program started because a woman was really passionate about working with her mentor, who experiences dementia," Birkes said. "She didn't want her mentor's stories and experiences to be lost so she, alongside with other volunteers, collect stories of elders in the community to be shared back out in podcasts, writing and songs."
The Building Bridges youth group welcomes community members from ages 14-29 to create change in their neighbourhoods.
"They come together once a month to work on how they want to make their community stronger based on their own voices," Birkes said. "There is a group of collaborators that help the youth bring their ideas to life."
While the group is heading into the third and final year of the OTF grant, they are looking forward to the future.
"Things are building momentum," Buchanan said. "We've been trying to build in sustainability, so the hosts are building their capacity to be doing this without support from us. So hopefully these things will continue and hopefully we do too. Maybe not in this exact form, but I don't see us going away with the end of the grant."
The organization has a number of other gatherings and events in the near future including their monthly "A Place to Be" group, neighbourhood week in mid-September, and the Discover Belonging Brant Open House at Grace Anglican Church on October 8. More information can be found at www.belongingbrant.com.