Students at Assumption College School (ACS) are returning to extra-curricular activities with a bang as they prepare to hit the stage with the musical production, The Addams Family. 
Fabiana Alamo, a grade 12 student who plays Morticia Addams, said that the production has really brought life back into the school and she is excited to share that with a live audience.
"I think these are the kind of things that are going to bring our humanity back together again," she said. "The arts are something that we all can truly connect to in one form or another, so it's nice to be putting on this play right when things are starting to open up."
Alamo, along with Avery Furtado, a grade 13 student who plays a grown-up Wednesday Addams, got a taste of the stage three years ago when ACS put on a production of Hairspray. The pair said that getting to take on a leadership role for students that are new to the drama world has been rewarding.
"It has been really special to share my love for the theatre with the younger cast members that haven't experienced it yet," Furtado said. "Being an older student and in a lead role has definitely been an added responsibility but it has been so cool to make friends with different grades through it all. Having younger students come to me for advice has been surreal. This musical has really been my reason to get out of bed every day and come to school."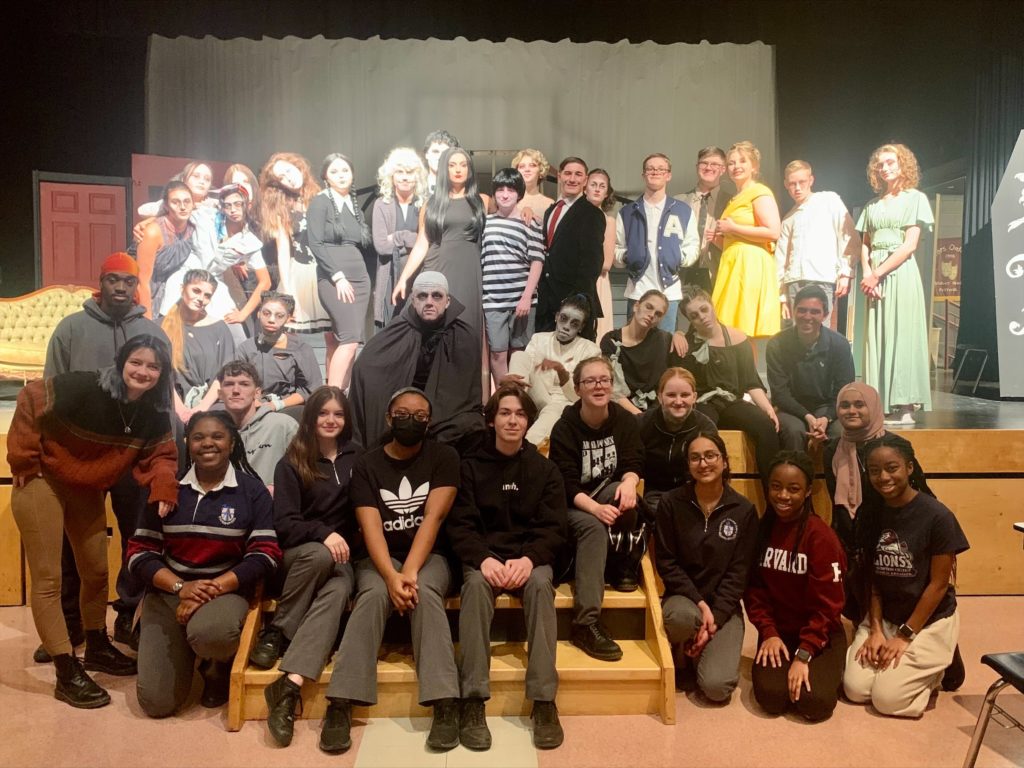 She wasn't the only student to acknowledge that working on the musical has improved her mental wellbeing.
Jack Emery, a grade 10 student, is getting his first taste of live theatre at ACS and said that he notices big changes in himself since beginning the journey.
"I've built a lot of self confidence since first stepping into the drama room for auditions," he said. "This is my first taste of the full high school experience and I am really enjoying it. I have met a lot of new people and have felt myself become so much more extroverted."
Emery, who is in the ensemble and serves as an understudy, said that the theme of the play fits its cast perfectly and hopes that the audience will take a lesson from it.
"Our show proves that it is really important to see that people can be different but in the end, we're all the same," he said.
Amidst all of the everchanging restrictions, the cast and crew are just a month away from hitting the stage in front of a live audience.
Connor Cabral, a grade 11 student playing Uncle Fester, said he hopes that while the audience enjoys the show, they also understand what has gone into putting it all together.
"We have put our absolute hearts and souls into creating this production," he said. "We have spent countless hours working, through COVID-19 restrictions and having to sing and dance with masks on. This whole show is made up of warriors, we've made it through so many challenges and we can't wait to give our all on that stage."
These four students, and their castmates, will take the stage in four shows, 7 p.m. on April 28 and 29, and 2 p.m. and 7 p.m. on April 30.
Tickets cost $20 for adults and $15 for students and seniors and can be purchased now at https://assumptionlions.ticketleap.com/musical/