Start Date: November 24, 2023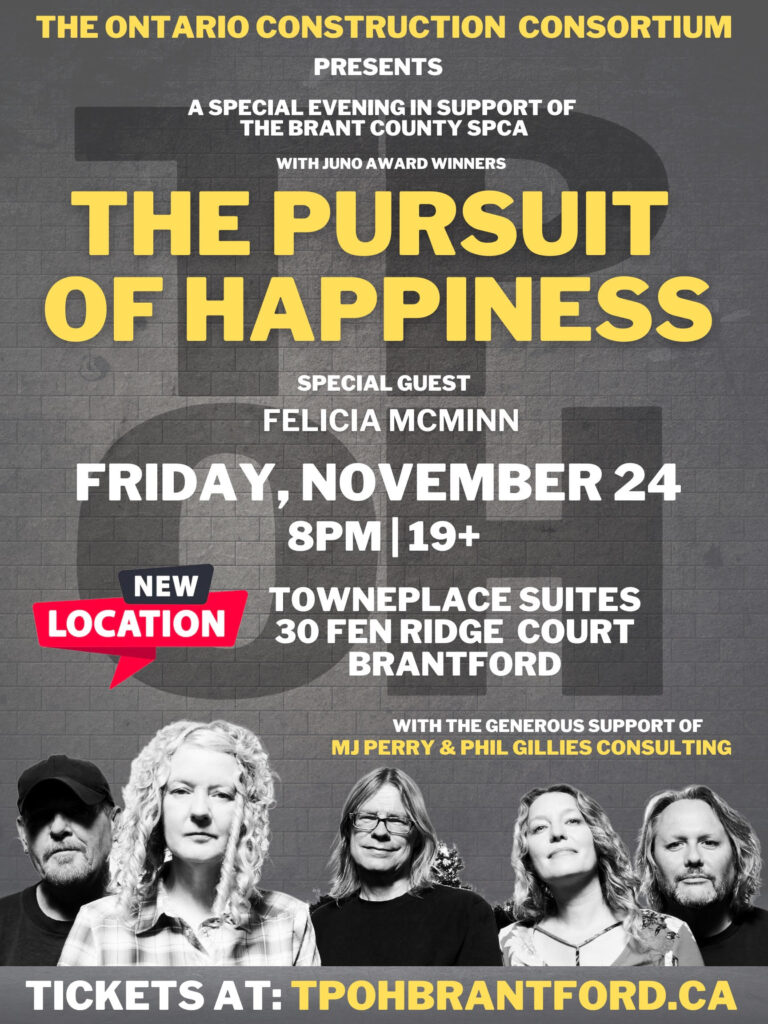 From 20:00 to 22:00
Address
The Rope Factory – 111 Sherwood Drive, Unit 25, Brantford, ON

Details
A special concert in support of the Brant County SPCA starring Juno Award winning rockers The Pursuit Of Happiness will be held in Brantford on Friday, November 24th at Towneplace Suites, 30 Fen Ridge Court.
The Pursuit Of Happiness is known around the world for their pop-rock standard I'm An Adult Now, as well as other chart hits including Hard To Laugh, She's So Young and Cigarette Dangles.
The concert is sponsored by The Ontario Construction Consortium, with financial support from MJ Perry and Phil Gillies Consulting.
"We wanted to do something to help with the SPCA's planned new animal centre, which is much needed", said concert organizer Phil Gillies. "Some of us aren't able to write huge cheques to support the project, but we do know how to organize events".
"I'm delighted to be reunited with my production partner M.J. Perry for this show", added Gillies. "Many in Brantford may remember that MJ and I did three shows at the Sanderson Centre some years back – with Randy Bachman, Bruce Cockburn and Lighthouse. And I'm also happy to have the active support of my partners in the CrewFest music festival.
"We are so grateful for this special concert in support of our campaign to build the new Brant County SPCA Animal Care Centre. Nearly five times the size of our current shelter, the New Animal Care Centre was purposefully designed to reduce stress and enhance the health and well-being for all animals. It is more than a shelter, it's a safe haven for the pets in our local community and the people that love them", said Cheyanne Richardson, Campaign Director for the Brant County SPCA.
"The Ontario Construction Consortium is delighted to sponsor this concert", said OCC Chair Ron Johnson. "We want to do something to help the SPCA with its new project. And isn't it great to have The Pursuit Of Happiness come to play in Brantford!"
"To have a beloved Canadian band like The Pursuit Of Happiness play an intimate show like this is so exciting," said Gillies. "I would urge people to buy their tickets early as we anticipate high demand, and there is no possibility of a second show".
Tickets for this show go on sale on Tuesday, September 19th and can be purchased online at: TPOHBrantford.ca.
Contact for more information
Email Address: info@theropefactory.com

---
Twitter