Start Date: August 12, 2023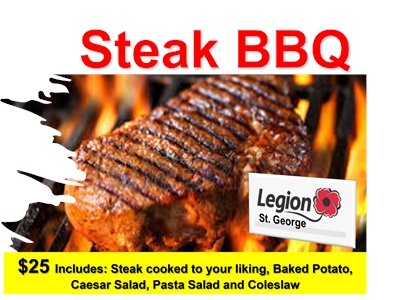 From 17:00 to 19:00
Address
St. George Legion, 9 Main St N, St George, ON

Details
The 2nd Saturday of every month, between 5pm – 7pm for our very popular STEAK BBQ.
Our dinner includes a strip loin steak (bbq'd to your liking) baked potato, caesar salad, pasta salad and coleslaw. (HST included) all for $25.00.
Everyone is Welcome and we're excited to see everyone at this event.
Contact for more information
Email Address: rclbranch605@gmail.com
Phone Number: 519-448-1462
---
Twitter