Start Date: November 2, 2023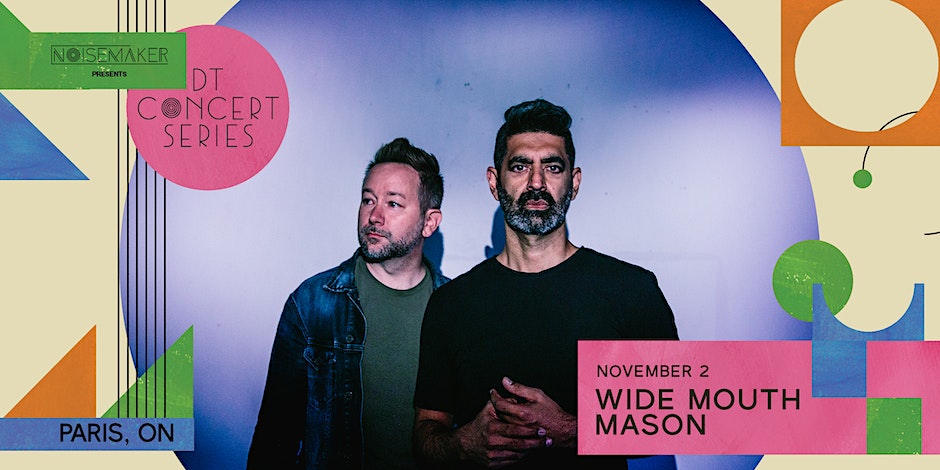 From 19:30 to 22:30
Address
Dominion Telegraph Event Centre - 97 Grand River St N, Paris, ON

Details
This show is held at the Dominion Telegraph Event Centre (97 Grand River St N) in Downtown Paris, ON. It is a seated indoor show, and seating is general admission – first come, first serve. Snacks & drinks are available for purchase at the bar in the venue.
—
We are not able to process refunds for ticket holders. Thank you for understanding.
—
Hailing from Saskatoon, Wide Mouth Mason is a blues/rock/roots trio renowned for their fluid, agile musicianship and dynamic live performances.
Shaun Verreault on lead vocals, guitar and 3-slide lap steel, and Safwan Javed on drums and percussion have produced a decades-deep catalogue including many rock radio hits, multiple gold records, and a track on the classic million+ selling Big Shiny Tunes 2 album.
Wide Mouth Mason has played clubs, theatres, arenas and festivals, toured with The Rolling Stones, AC/DC, and ZZ Top, and appeared in the Al Pacino/Colin Farrell film The Recruit and its soundtrack.
The band has completed a new record called Late Night Walking, produced with Ryan Dahle and featuring Big Sugar's Gordie Johnson on bass, which will be released in the fall of 2023.
Contact for more information
Email Address: info@noisemaker.ca

---
Twitter