Start Date: March 26, 2023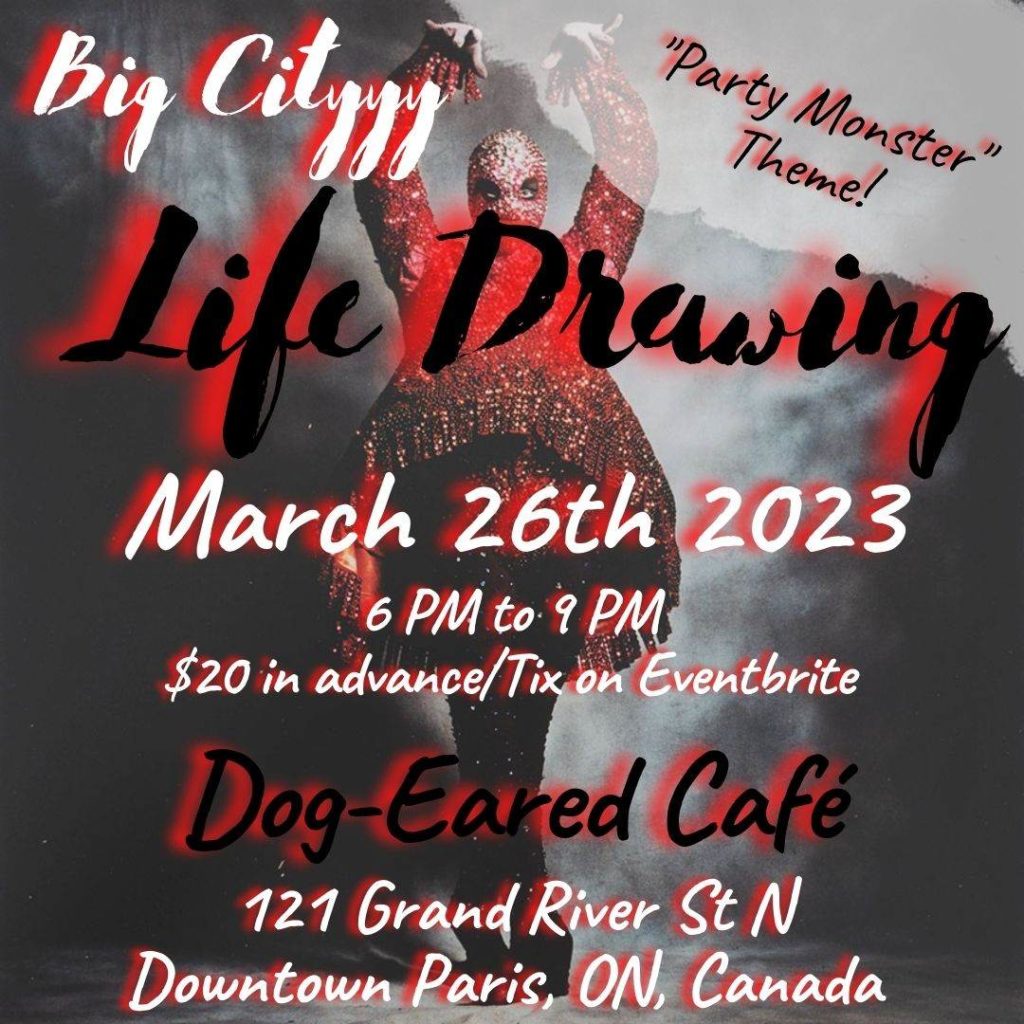 From 18:00 to 21:00
Address
Dog-Eared Cafe, 121 Grand River St North, Paris

Details
Big Cityyy Arts presents Life Drawing at Dog-Eared Café
A costumed life drawing event for artists and creative people of all levels and all walks of life. No experience or arts education required, this is a space for trying, exploring and getting your creative juices flowing!
More info and tickets…
About the event:
This three hour event will pop up at the Dog-Eared Café on Sunday March 26th from 6 PM to 9 PM, with a 'Party Monster' (by Michael Alig) theme to bring some edge and energyyy to our inspirations…
Our model, Rubyyy Jones, will be costumed in a queer and curious Club Kid inspired look, channelling 90's NYC nightlife in the styling with bold shapes and terrific textures for you to sketch, draw, doodle etc.
Tickets are $20 in advance (plus fees) and there are only TWENTY tickets available. Due to health & safety, and wanting to keep things sweet and relaxing, we have to keep the number intimate. We can no longer often floor tickets – apologies – please contact us on BigCityyyArts@gmail.com if you need financial assistance.
Tickets:
The event schedule:
6:00 PM – 6:15 PM Doors open, check tickets, get your seat and grab drinks or snacks of all kinds from the counter/bar!
6:15 PM – 6:50 PM Part One!
Pose schedule: 3 x 30 seconds, 3 x 1 minute, 2 x 2 minute, 2 x 5 minute, 2 x 7 minute.
6:50 PM – 7:00 PM A break for sharing, refreshments, etc!
7:00 PM – 7:40 PM Part Two!
Pose schedule: 1 x 3 minute, 1 x 5 minute, 1 x 10 minute, 1 x 15 minute
7:40 PM – 7:55 PM A break for sharing, refreshments, etc!
7:55 PM – 8:35 PM Part Three! 1 x 5 minute pose, 1 x 7 minute pose, 1 x 30 minute pose
8:35 PM – 8:45 PM Sharing and thank yous!
8:45 PM – 9:00 Stay and join us for chat and refreshments
What to bring:
Your medium of choice, but no paints or messy mediums please!
Your sketchbook, paper or preferred sketch surface!
Your Eventbrite ticket confirmation
Tickets:
About the organisers:
Big Cityyy Arts is dedicated to bringing vibrant and vivacious arts events and education, online and in real life; playing with arts and culture from an alternative and innovative perspective. Established by artists Rubyyy Jones and Prinx Lydia, this is an extension of their practice and work as theatre, queer arts and community engagement professionals. Working as creatives and curators across the UK and Europe, Rubyyy and Prinx Lydia are thrilled to be newly located in Paris, ON, Canada and to have so many exciting programmes and possibilities ahead. Big Cityyy Arts work all over the world, but we are passionate about bringing 'big city' energy and exploration to small town locales. A few of our previous clients include: V&A Museum (London), Greenwich Museum (London) Turner Contemporary Gallery (Margate), Warehouse9 (Copenhagen), Royal Court Theatre (London) and Rotterdam Pride (Rotterdam) and we love to create bespoke happenings for occasions and artists of all kinds.
About the venue:
Dog-Eared Café 121 Grand River St, Paris Ontario, N3L 0E7
Dog-Eared Café has been conceived of in the tradition of European cafe models of old to provide an atmosphere in which art, literature, activism, and conversation are paramount, taking precedence over long lines, impatient baristas, and uncomfortable seating designed to discourage long stays. It's a comfortable couch and a good book; a warm, carefully crafted coffee drink cupped in our hands, sipped slow to wash down a rich treat savoured. It's good music and honest conversations, the world's demands left at the door.
Located in historic downtown Paris, Ontario with a picturesque view of the Grand River, Dog-Eared Café serves perfected crafted espresso drinks, delectable baked goods, fresh sandwiches, and offers a diverse selection of well-loved books in all genres to peruse while enjoying a really, really good cup of coffee. There will also be a bar available and you can enjoy refreshing beers, yummy wines and other alcoholic beverages.
For more information:
Please contact us on SaveRubyyyJones@gmail.com with any questions or queries, or via @BigCityyyArts on Instagram.
Contact for more information
Email Address: bigcityyyarts@gmail.com

---
Twitter