Start Date: November 24, 2023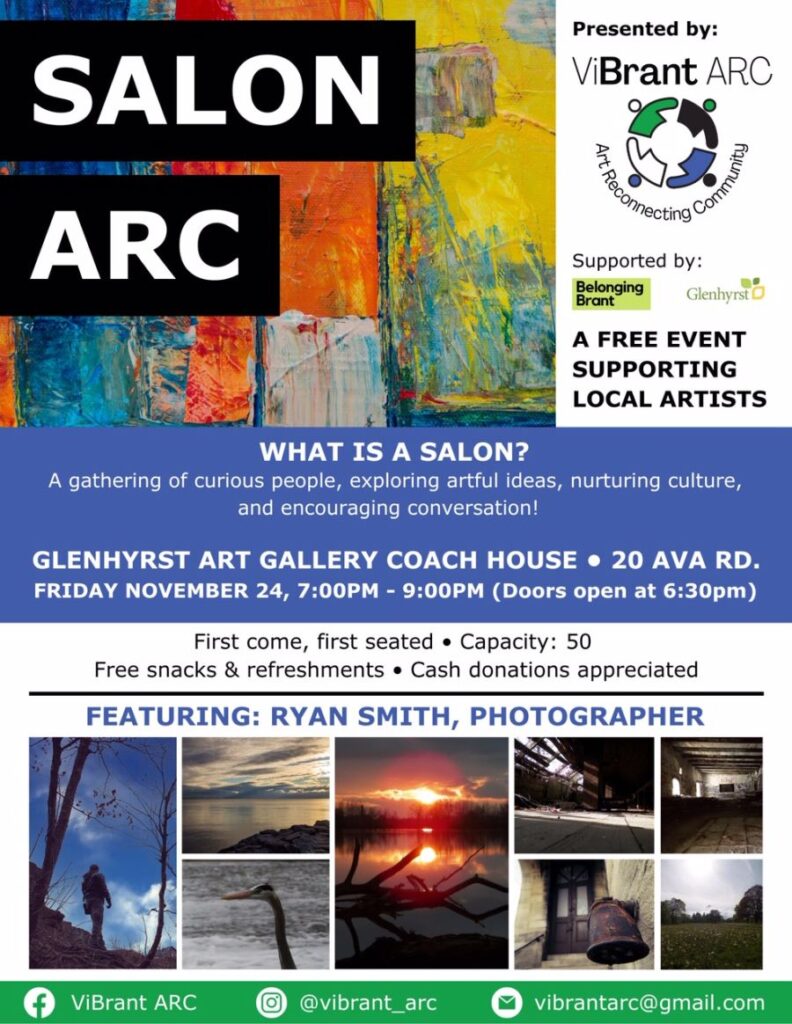 From 19:00 to 21:00
Address
Glenhyrst Art Gallery of Brant, 20 Ava Rd, Brantford, ON

Details
ViBrant ARC (Art Reconnecting Community) presents the Salon ARC series.
What is a salon? It is a gathering of curious people, exploring artful ideas, nurturing culture and encouraging conversation.
Free event: snacks and refreshments provided. Cash donations greatly appreciated.
Doors open at 6:30pm.
Ryan Smith, photographer.
Ryan's photographic journey started several years ago when he was given a used camera. Since then he has discovered that he has a natural talent for it. Photography also became a form of therapy for Ryan to help him with stress and anxiety—at the time both were at levels higher than he had ever experienced before.
Since then Ryan has taught himself how to use a camera and experiments with it to look beyond its limitations.
For Ryan Smith, photography is not just a hobby but a means to look around him more intensely and to capture moments that will provide a meaningful memory.
Ryan's main interest lies in the beauty of sunrises and sunsets and everything to do with this amazing landscape of Ontario. When he's not working he spends his spare time hiking, reading and generating laughter. He also likes to annoy his wife with extensive movie trivia and impressions of actor Christian Slater.
Please consider joining ViBrant ARC for our monthly brainstorming sessions held the 3rd Thursday of each month, 6:00 – 7:30pm at the Brantford Public Library, 3rd floor meeting room. Next one is Thurs. Oct. 19.
For up-to-date information and events, join our Facebook group @ViBrant ARC or follow us on Instagram @vibrant_arc. You can always go "old-school" and email us at vibrantarc@gmail.com
Contact for more information
Email Address: vibrantarc@gmail.com

---
Twitter