Start Date: November 17, 2023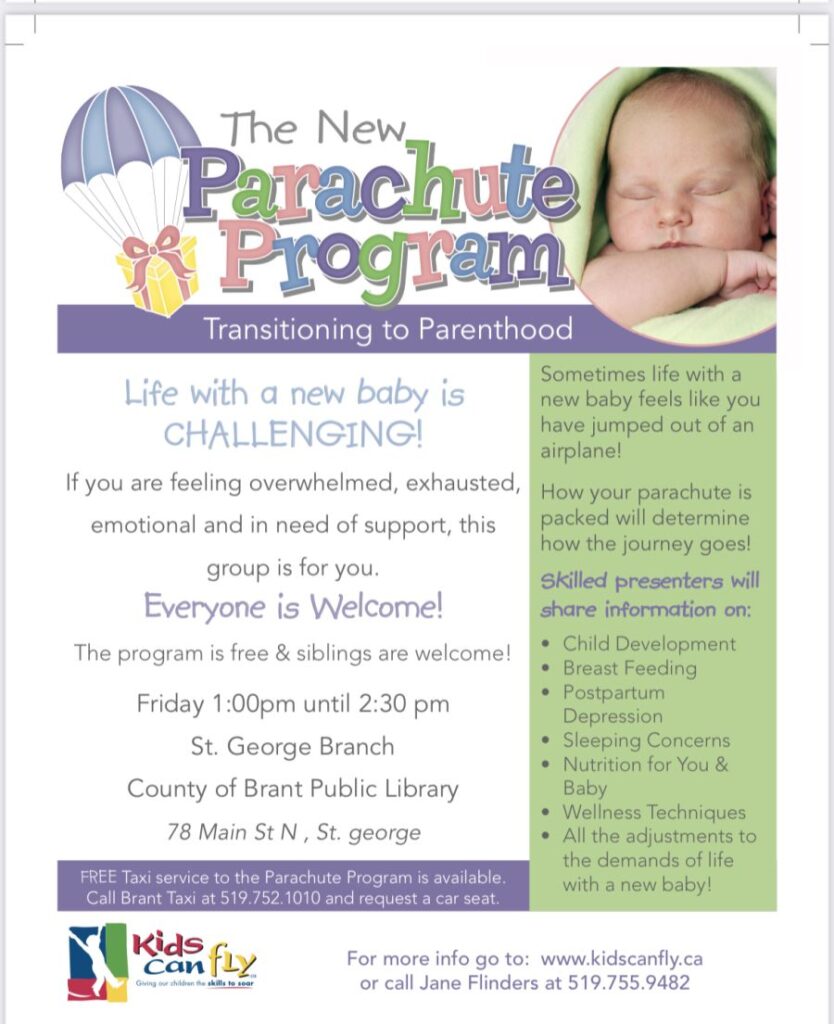 From 13:00 to 14:30
Address
County of Brant Public Library (St. George), 78 Main St North, St George, ON

Details
A unique program designed to support new mothers during the challenging first year of parenthood. Mothers are invited to bring their babies (ages 0-12 months) to the Parachute Program for interactive music time and meaningful conversations about parenting. This is a wonderful opportunity to meet other moms and find a supportive community.
Starting Sept. 11, Parachute Program is operating at two locations weekly. Please check our event calendar for live updates.
Mondays from 1:00 – 2:30pm at Margot's Place in St. Andrew's United Church, 95 Darling St., Brantford
Fridays from 1:00 – 2:30pm at St. George Public Library, 78 Main St. N., St. George
NOTE: If attending the Margot's Place Parachute Program, please come through the front community doors (not the sanctuary doors) and come up the elevator to the Margot's Place floor. At Margot's Place, carefully trained and screened Baby Cuddlers come in to the program after music time so moms can have meaningful conveersations about parenting and wellness while their babies are safety cared for in the next room.
At the St. George location, mothers and babies stay together the whole time.
No registration is required. This is a drop in program.
For more information, contact Jane Flinders by text at 519.755.9482.
Contact for more information
Email Address: info@kidscanfly.ca

---
Twitter