Start Date: March 21, 2024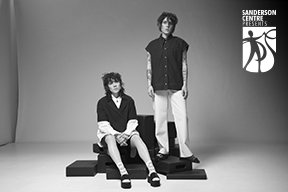 From 19:00 to 22:30
Address
Sanderson Centre, 88 Dalhousie St., Brantford, ON

Details
Tegan and Sara launched their careers straight out of high school, from their hometown of Calgary, Alberta. In 2000, they signed to Neil Young's record label, Vapor Records, out of Santa Monica, California. Over the course of their twenty-five-year career, they have sold well over one million records and released ten studio albums, including their latest release, "Crybaby."
They have been honoured with numerous Grammy, Glaad, and Polaris nominations, as well as three Junos for their seventh studio album, "Heartthrob," which included the pop juggernaut "Closer." Their songs have been featured in TV shows like "Glee," "Grey's Anatomy," "Girls," and "Heartstopper." In 2018, they received both a Governor General's Performing Arts Award and the New York Civil Liberties Union Award.
Tegan and Sara have performed on some of the world's biggest stages, from Coachella to the Academy Awards, and are executive producers of the Amazon TV series "High School," based on their New York Times–bestselling adult memoir of the same name. They are also the authors of the "Junior High" graphic novel series for young readers.
In 2016, they launched the Tegan and Sara Foundation, which works tirelessly to improve the lives of LGBTQ+ women and girls. This mission is founded on a commitment to feminism and racial, social, and gender justice. The Foundation raises awareness and funds, fights for equality and justice through its flagship programming, and supports grassroots organizations, activists, and communities that often go unrecognized by major funding institutions.
Tegan and Sara have been touring for twenty-five years and are constantly evolving their live show. No two nights are ever the same. The Not Tonight tour is a contoured acoustic storytelling evening showcasing the 2002 album "If It Was You," as well as an additional set of their most beloved songs. Audience members can expect an intimate night of music and storytelling.
Contact for more information
Email Address: sandersoncentre@brantford.ca

---
Twitter