Start Date: June 2, 2023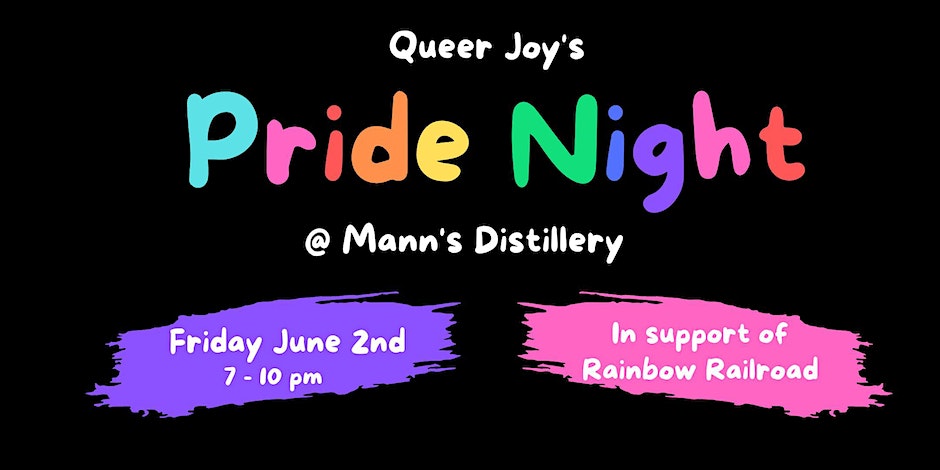 From 19:00 to 22:00
Address
Manns Distillery, 581 West Street, Brantford, ON

Details
Join us on Fri June 2nd 2023 from 7 PM – 10 PM at Mann's Distillery (581 West Street, Brantford, ON) for Queer Joy's Pride Night!
This is a great opportunity to meet new friends and celebrate who you are, exactly as you are.
What the event involves:
- Bumpin' playlist of queer tunes & iconic songs all night long
– Cards and board games will be available– but participation is not mandatory, choose your own adventure! 🙂
- A raffle for a Very Mysterious Mystery Prize Pack– each person gets one free ticket on arrival, more can be purchased with cash at the event
- Appetizers and drinks will be available for purchase
- Tickets are pay what you can with a suggested donation of $10–all profits from the event will be donated to Rainbow Railroad)
Spread the word and invite your friends to Pride Night. Whether you identify as 2SLGBTQAI+ or an ally, everyone is welcome to join. Let's make this a night to celebrate Queer Joy!
About the Venue: Mann's Distillery is a family owned craft distillery In Brantford Ontario. They make a large range of spirits (gin, vodka, rum, whisky and brandy) and didn't want to define their distillery by one type. They love playing with different flavours – exploring new tastes and using a wide selection of botanicals. Sounds like the perfect match for this even to me! 🙂
Our event will be taking place in the upstairs cocktail lounge where there are cocktail tables, comfortable sofa and lounge seating, all overlooking the 1,100 litre still and production facility.
About the Cause: Rainbow Railroad helps LGBTQI+ people escape state-sponsored violence. In countries around the world, LGBTQI+ people face violence and oppression simply because of who they love or who they are. They help them get to safety. Learn more on their website here https://www.rainbowrailroad.org/
Contact for more information
Email Address: mannsdistillery@gmail.com

---
Twitter