Start Date: November 17, 2023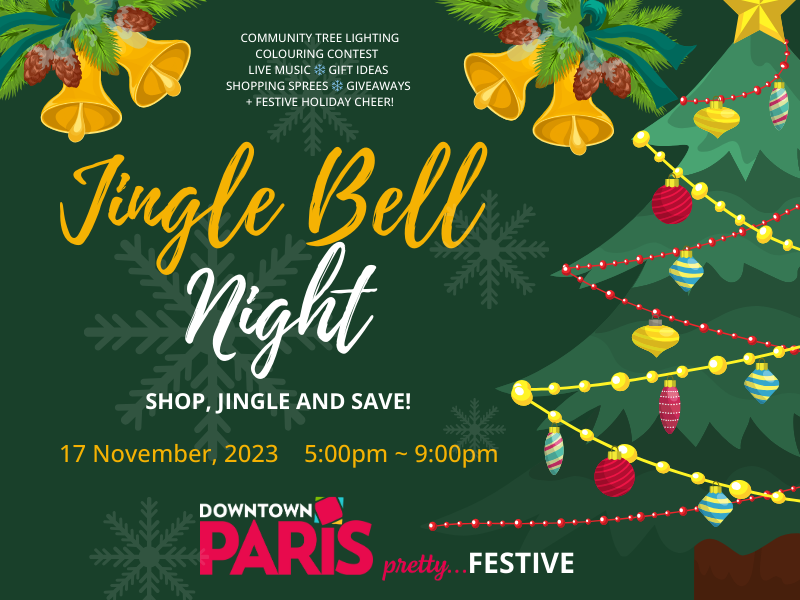 From 17:00 to 21:00
Address
Downtown Paris , Paris / County Of Brant

Details
Jingle Bell Night Brings Holiday Cheer to Downtown Paris
The merchants of the Downtown Paris BIA, invite everyone to experience the magic of the holidays at the annual Jingle Bell Night on Friday, November 17. It promises to be pretty festive!
The fun gets underway at 5pm, with the (unofficial) start of the holiday calendar taking place at 7 pm with the Annual Tree Lighting Ceremony at Cobblestone Common. Mayor David Bailey will be on hand to flick the switch, and the event also features live music, singing, and a few surprises.
Once the tree is lit, the real fun begins. Shoppers will have a chance to win one of many Shopping Spree Giveaways offered by downtown merchants. Carolers and elves will spread good cheer up and down the street, handing out candy canes and special coupons. Many stores will stay open late for the evening, offering refreshments, great gift ideas and some solid bargains.
"Jingle Bell Night is one of our most popular events," said Matt Cummings, Chair of the Downtown Paris BIA. "It brings the community together to experience the heart of our community during the most wonderful time of the year. The lights, music, and general good vibes create memories that last for years to come.
In addition to the festivities, visitors will be enchanted by whimsical holiday window displays and decorations throughout downtown. Independent shops, restaurants, and artisans, provide the perfect backdrop for an evening stroll and a view of not one, but two, heritage waterways. Local storefronts will also be presenting the work of local students – displaying their creations entered in the annual Colouring Contest.
"We have so much to offer right here in downtown Paris," said Katherine Pickering, Vice-Chair of the BIA. "Jingle Bell Night is a great opportunity for people to fall in love with shopping and dining local again. Our merchants go above and beyond to make the downtown sparkle for the holidays. There's something magical about walking down the street, shopping for loved ones, listening to carolers, and soaking in the holiday spirit with neighbors and friends.
The Downtown Paris BIA represents over 80 businesses in the heart of "The Prettiest Town In Canada". Its mission is to champion a vibrant, prosperous downtown by attracting more people to live, work, shop and invest in the heart of the Brant County.
For more details about Jingle Bell Night and other downtown events, visit www.downtownparis.ca or follow them on Facebook or Instagram. Come make merry memories at Jingle Bell Night in Downtown Paris!  
Contact for more information
Email Address: info@downtownparis.ca

---
Twitter