Start Date: September 23, 2023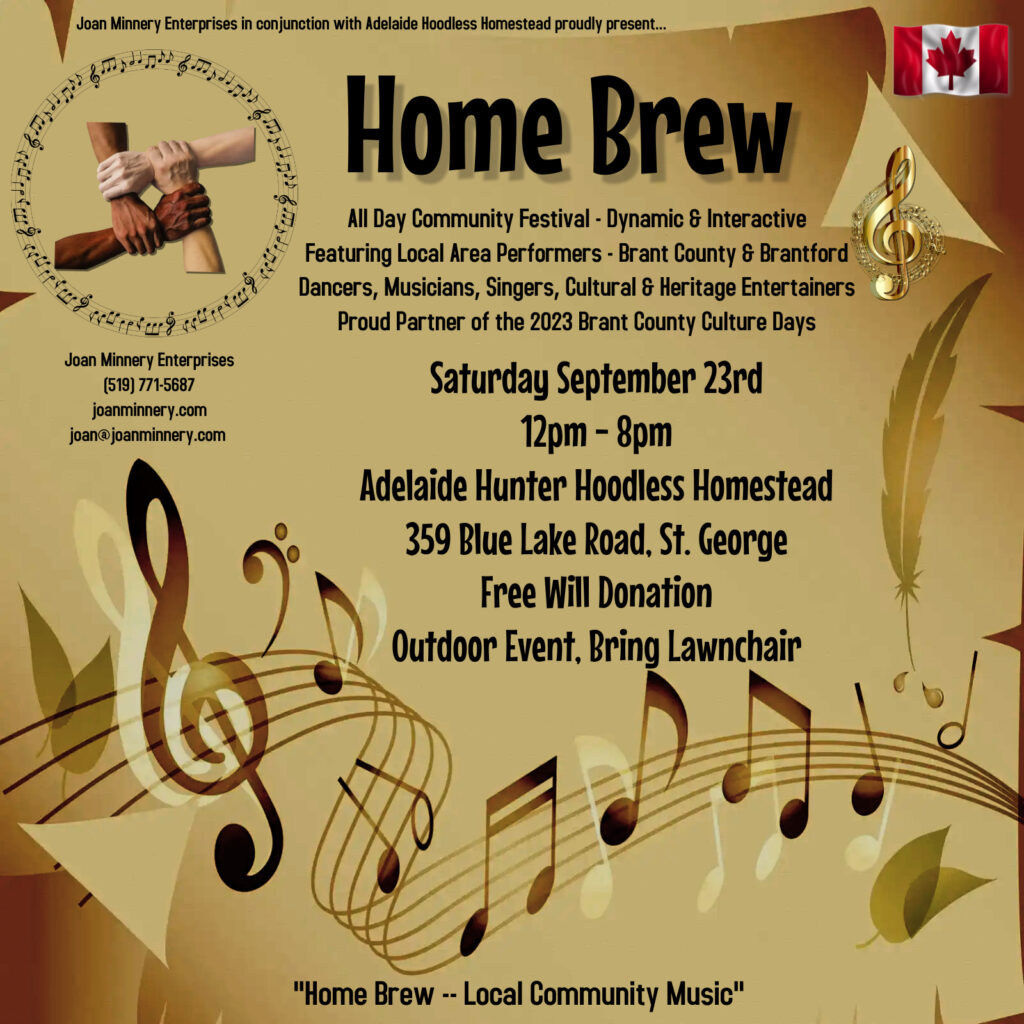 From 12:00 to 20:00
Address
Adelaide Hoodless Museum, 359 Blue Lake Road, St. George

Details
HOME BREW – Local Community Music Festival
Saturday, September 23rd, 12 Noon – 8pm
Adelaide Hunter Hoodless Homestead
359 Blue Lake Road, St. George
Part of the 2023 Brant County Culture Days
Hey Friends:
We are writing to you to graciously invite you to and inform you of a brand-new Local Community Festival we are spearheading called HOME BREW.
As part of the 2023 Brant County Culture Days — we are partnering with the Adelaide Hunter Hoodless Homestead to present an in-person All Day Community Festival of totally LOCAL talent from Brant County and Brantford. This event will feature a host of local cultural, heritage and diversified performers — Singers, Dancers, and Musicians from within our community and neighbouring areas. This event will be an all-ages festival as we join to celebrate the community and culture.
The event is running Saturday, September 23rd from 12Noon until 8pm (lighting permitted). The event is being held outdoors within the Pavilion of the Homestead (which is quite large and has side doors if it rains). There's a huge green yard with lots of space for people to sit, stand, and dance as well as many picnic tables underneath the pavilion. It is for all ages.
*Please note, this is an alcohol-free event, and currently we not anticipating serving any food or beverages*
HOME BREW — Local Community Festival.
Saturday, September 23rd, 12pm – 8pm
Currently, we have confirmed dancers from the Hungarian and Ukrainian Villages, the Angus School of Highland Dance, the STOMPtastic Line Dance Troupe, vocalists from SiNG iT, the SIVLE Rock Band and local singer-songwriter Taya Humpartzoomian. (More will be added).
**We are still seeking MORE ethnic groups for our variety show, please contact us if you happen to be free and would like to be part of this Variety show or can suggest someone**
This is an outdoor event. Please bring a lawn chair.
Admission is by free-will donation.
Free parking on site.
You may come and go as you please.
Wheelchair accessible but please note that the path to the pavilion is on grass.
Wheelchair-accessible bathroom on site.
Come and try some HOME BREW!!
Musically Yours,
Joan Minnery
Joan Minnery – Festival Director
Email: joanminnery@gmail.com
Website: https://joanminnery.com
Contact for more information
Email Address: joanminnery@gmail.com
Phone Number: 5197715687
---
Twitter