Start Date: October 18, 2023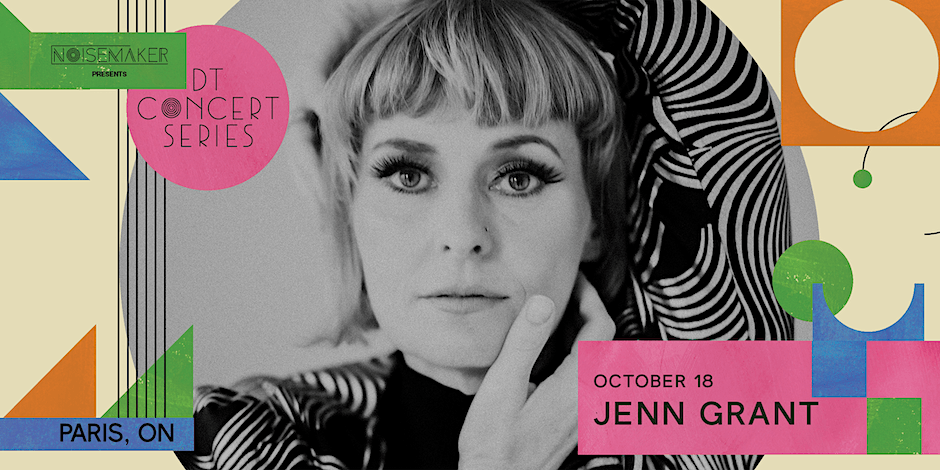 From 19:30 to 22:30
Address
Dominion Telegraph Event Centre - 97 Grand River St N, Paris, ON

Details
This show is held at the Dominion Telegraph Event Centre (97 Grand River St N) in Downtown Paris, ON. It is a seated indoor show, and seating is general admission – first come, first serve. Snacks & drinks are available for purchase at the bar in the venue.
—
We are not able to process refunds for ticket holders. Thank you for understanding.
—
Jenn Grant's music is deeply empathetic and generous of heart, so of course one day she would invite the whole country to make it with her.
Champagne Problems, her eighth album and first in the producer's chair alongside partner Daniel Ledwell, gathers 13 musicians from coast to territory to coast in a series of collaborative Canadian magic tricks spun into classic country, lost disco hits, and ruminative folk fables.
Enriched with Canadian talent, – including Afie Jurvanen (Bahamas), Amy Millan (Stars), Aquakultre, Basia Bulat, Dan Mangan, Hannah Georgas, Joel Plaskett, Josh Qaumariaq, Kevin Drew (Broken Social Scene), Kim Harris, Ria Mae, Slow Leaves, Tim Baker – Champagne Problems is a unique musical experience that could have only come out of extenuating circumstances, willing partners, and profound vulnerability. It could have only come out of Jenn Grant
Contact for more information
Email Address: info@noisemaker.ca

---
Twitter