Start Date: September 17, 2023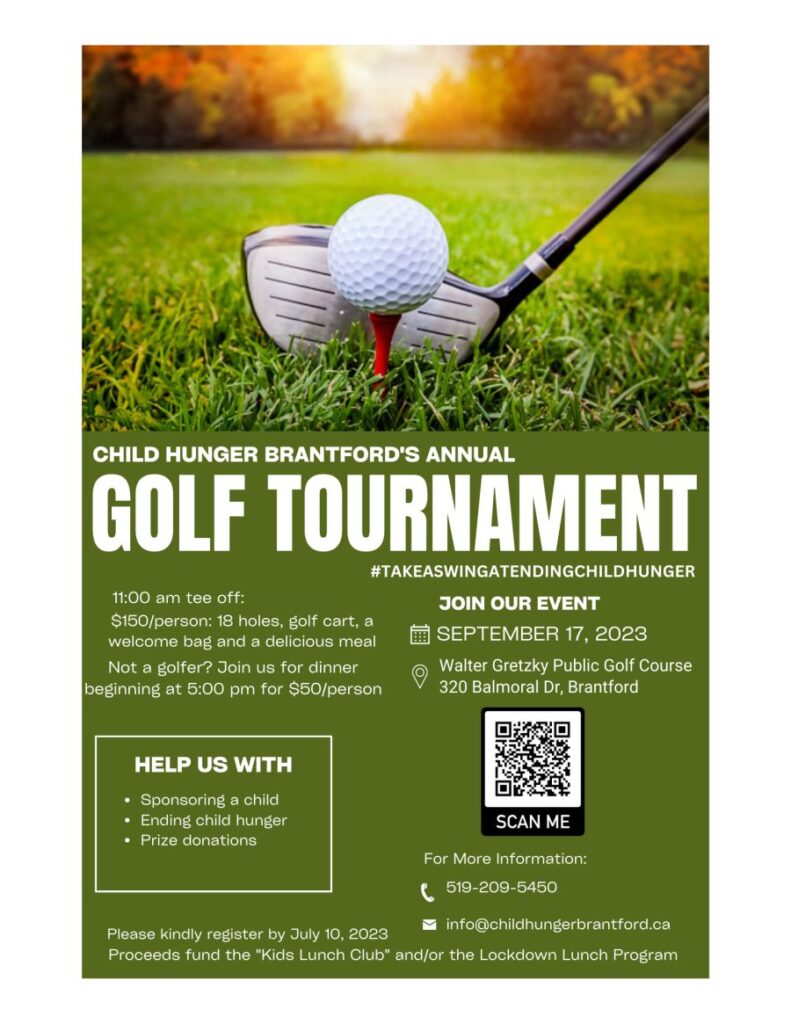 From 11:00 to 20:00
Address
Walter Gretzgy Public Golf Course, 320 Balmoral Dr, Brantford, ON

Details
All event proceeds will directly fund the "Kids Lunch Club" program and/or the Lockdown Lunch Box program. Our mission is to establish a resource centre to engage the community and fulfill our mission of ending Child Hunger. This resource centre would provide the tools needed to effectively provide programs and increase our capacity to directly impact more families. We welcome you and your friends to join us this September for an enjoyable day of golf.
11am tee off on September 17.
Child Hunger Brantford was established in 2013 to serve children who are suffering food insecurity in Brantford. Our mission is to support children and their families through education and nutritional programming that nurtures their potential. Our vision is to promote a positive life change by building life-long healthy eaters through access to healthy food for all, promoting awareness that fresh, whole foods are key to general good health and well-being, and the important role a healthy diet plays in the lives of children, and finally that promoting/offering learning opportunities addressing conditions that limit participation in the community, learning and employment. Our program provides children in need with a lunch and 2 snacks every day. Kids lunch box is free and every child is accepted into the program.
Contact for more information
Email Address: info@childhungerbrantford.ca
Phone Number: 519-209-5450
---
Twitter