Start Date: September 17, 2023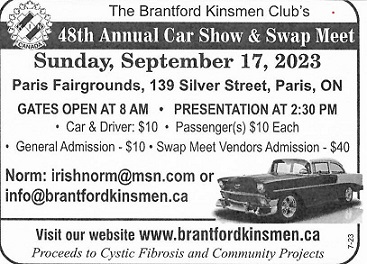 From 08:00 to 15:00
Address
Paris Fairgrounds, 139 Silver St, Paris, ON

Details
As we get gear up for one of the largest Car Shows in Southern Ontario, at our 48 Annual Car Show there are many things to do. We hope that the weatherman gives us a beautiful shiny day, but all we can do is hope for cause we just love to see all of our spectators and those beautiful shinny rides.
The Kinsmen Club of Brantford is always proud to hold our Annual Car Show & Swap Meet on the third Sunday in September. This years show is on Sunday September 17, 2023 from 8:00a.m. – 3:00p.m. Through events like this, we raise greatly needed funds to support CYSTIC FIBROSIS and many community causes. We are constantly praised yearly by the spectators and participants on our show.
Take a relaxing walk down memory lane, while enjoying the music broadcast and viewing the variety and beauty of these shining relics of our past. We're always looking forward to seeing everyone and those sweet rides each and every year.
Contact for more information
Email Address: irishnorm@msn.com
Phone Number: 519-770-9557
---
Twitter